So I thought I'd share with you some background on the test environment I'm building, as I'll be posting the scripts I'm developing to make it all happen… so a bit of context will hopefully help you.
My organization is currently going through a phase of massive expansion and as a result we've been given a little freedom to explore new technology and increase our knowledge and experience with VMware. To experiment with the new products and also to test changes to VM's, we decided to build a small 2-node VMware cluster mimicking prod as closely as possible.
This environment will allow us to clone any given VM into the test environment, whilst maintaining layer 3 (and possibly layer 2) information, perform a change, do some testing, then remove the VM. It will also allow us to test cluster/host/vCenter changes in an isolated environment before making changes on the Prod virtualization infrastructure.
I'll be scripting the clone, migration and deletion of VM's, possibly with service-desk integration.
What makes this all possible is an isolated, replica version of the prod VLAN structure on the Test environment. Because the PortGroup information remains the same in the test environment, ANY VM that is running in prod can be clone'd into the test environment. We've chosen to implement a physically separate layer3 cisco switch, so if any routing weirdness occurs: we can physically isolate the environment easily.
The diagram below shows the basic network layout. The diagram is highly simplified, as there are actually over 30 production VLANs trunked to Prod… all will be available in test.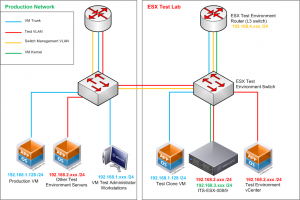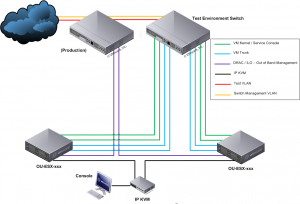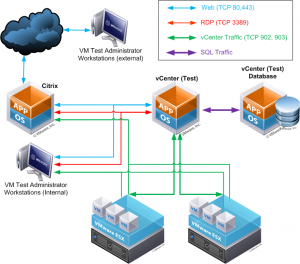 Storage is actually somewhat more simple than the network. We've chosen to expose a "Transfer" LUN to both Prod and Test environments, VM's will be cloned here in the prod environment, then migrated to dedicated Test LUNs (matching the tier of storage in Prod). Its possible this step could be done using the storage controllers, but for the purposes of simplicity, I've chosen this method to start with.
Hopefully that gives a little background for my future script posts and may also be helpful to others. Let me know what you think.
-Doug
8 Responses to "My VMware Test Environment"